In Western Michigan, we are fortunate enough to live in a city that is rich in art and culture. We are also blessed to have many families who give back through their
philanthropist
efforts. Back in April, Rick
DeVos
announced that in the Fall of 2009,
Grand Rapids
would be home to the largest art prize competition. His
ArtPrize
would be awarding $250,000 to the first prize winner! Anyone and everyone was encouraged to enter and the end result was spectacular.
On September 23rd, the two week festivities kicked off with the help of the extraordinary
Jodi
Bos
of In Any Event
. We were asked to design a fresh, clean look to bring the colors of slate and saffron colors to life;
craspedia
, pin cushion
protea
and locally grown
celosia
were used as our primary design elements.
The crinkled taffeta linens coupled with the ghost chairs looked spectacular.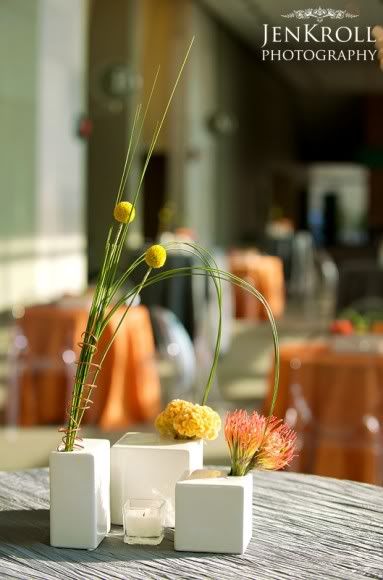 I absolutely love these crisp white containers! They're perfect for super mod jumping designs!!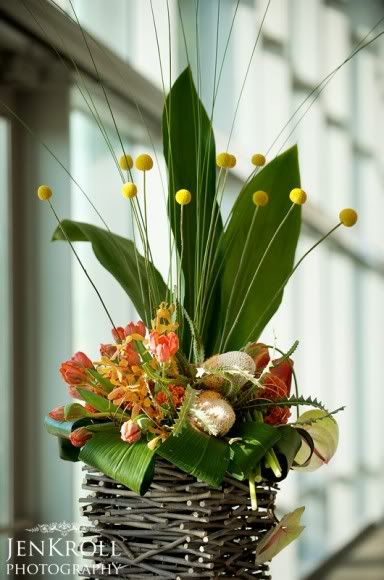 This little eclectic beauty was designed by
Rueben
whose unique style added the perfect flair to the registration tables. And how much do you love this container?!
The VIP opening reception was one of many events we were fortunate enough to design during the
ArtPrize
festivities. I look forward to sharing more!
I would also like to send a special thank you to the
DeVos
family for continuing to give back to our community and for making Grand Rapids such an amazing place to live! I'm so proud to be a Grand
Rapidian
!