As mentioned in my earlier post, the closing gala was one of the most incredible events we have had the honor to design.
Jodi Bos of In Any Event
along with the team from
Special Events Rental
did an amazing job transforming a not so glamorous site into something spectacular. Also, thanks to
Jen Kroll
,we have these gorgeous pictures to share with all of you!
The venue was split into three very distinct sections and styles: organic/botanical, modern and swanky couture. In an effort to share all the lovely details (and prevent a mile long post!), I decided to split this event into three blog posts.
First up - Organic/Botanical!!!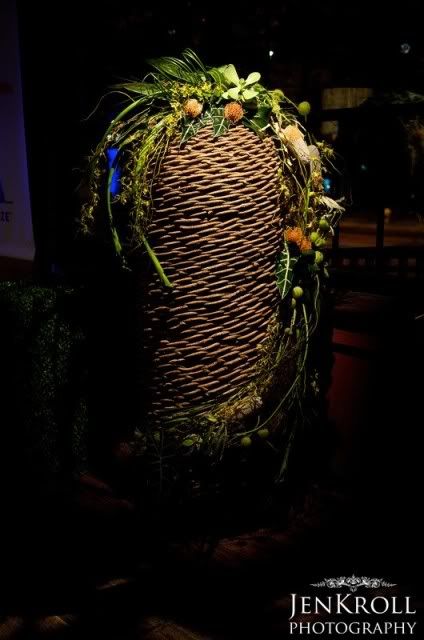 This 8ft. ginormous botanical design greeted guests as they entered the party. Affectionately known as the "little shop of horrors," this design featured an unusual blend of pin cushion protea, green goddess calla lilies, orange banksia, wildcat oncidium orchids, succulence and a mixture of tropical foliage.
Orchids come in many different varieties and one particular species that thrills me every time is the lady slipper. This little beauty takes center stage with it's beautiful lines and unique characteristics...amazing right?!
The bar design was a culmination of all of the floral elements used in the room. I loved how the flowers accentuated the colors of the room.
Next up room #2 - Modern! I can't wait to share with all of you...it's one of my favorites! Until then have a wonderful day!!!