I knew when I met our bride, the fabulous Allison, we were in for a good time! She loved bold design and was open to anything. Both Allison and Matt's main concern was that their guests had a fantastic time surrounded by great food, unbelievable entertainment and decor that was modern but not cold.
When designing at the
JW
, selecting just to the right accent color is key to creating a rock solid look. The carpet is bold but fantastic if paired with the perfect color palette, rich raspberry with black accents and punches of citron and aburgene was a perfectly playful pair for this spectacular venue.
Thanks to Karrn and Ken of
Lotus Photographic
I have amazing pictures to share. I feel so blessed to work with such talented and gracious photographers. If it wasn't for them we wouldn't have proof of our hard work. Thanks guys!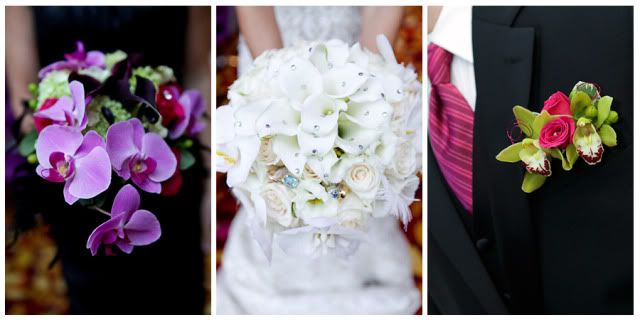 The personal flowers were distinctly unique and I couldn't help but fall in love with the pocket squares. Our talented lonely male designer Rueben did such a great job on these! I don't know if you can see them but the bridal bouquet actually contained not just one but four rings to represent the "something borrowed, something blue."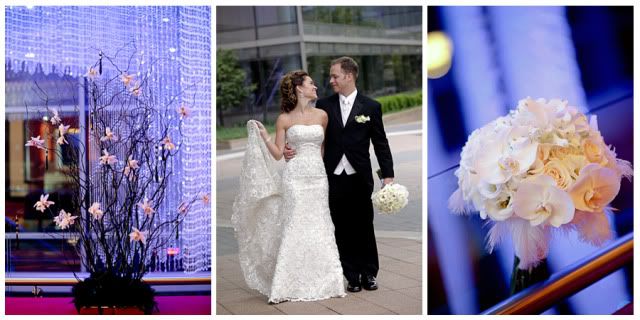 Matt and Allison, the amazing couple! How much do you love her dress? It was made out of laser cut lace and looked absolutely stunning on her.
All of the table numbers, escort cards and menus were created by the talented Jill of
Events by Icandy
. The pattern was a play on their invitations which helped pull the complete look together.
As a surprise to the lovely couple, I had
Jill
create a custom lampshade to match the couples wedding pattern. These little lovelies were used on the head table.