As promised here are some of my favorite detail shots from the reception and cocktail hour from our Orchard Chic wedding.
Jodi of In Any Event
did a beautiful job creating a flawless event filled with personal touches.
Although I'm extremely resistant to the idea of fall being right around the corner, I have to admit I find comfort in cider, warm dutch apple pie and spiced donuts. I'm convinced that the only reason we stay in Michigan is for our infamous fall season which is absolutely heavenly!
The cocktail hour was nestled among beautiful flowering bushes, lush plantings and amazing apple trees. Could you possibly ask for a more picturesque setting?
Hand-tied bundles of Maritime roses in julep cups were used to add the perfect touch to the yummy
LaTavola linens
.
I would have to say that one of Jodi's strong suits is definitely her escort "table" designs. I love how she used an antique door to display here picture perfect escort cards. She is the queen of craft, a real Martha Stewart! :)
Sterling silver candelabras and candle stick holders were used to compliment the eclectic combination of containers filled with lush flowers.
The centerpiece containers were a combination of vintage stoneware and tea stained urns. Lush white hydrangea, dark blue veronica, white hypericum berry, jasmine vine and a combination of cool water, virginia and green sahara roses brought this romantic centerpiece to life.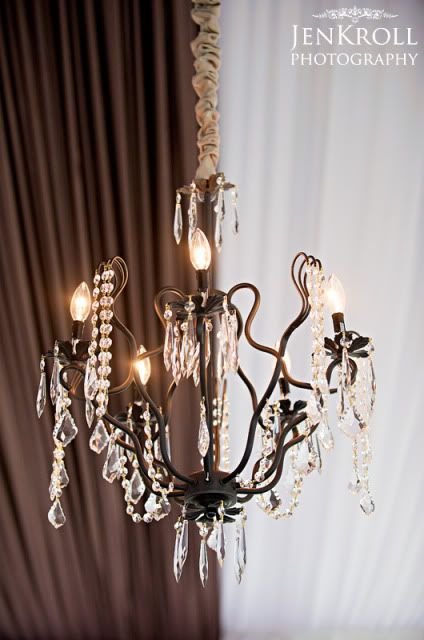 Lovely chocolate brown chandelier...I'll take 5!
The big joke while designing this event was my constant question of, "are the tables going to be too bare." Thank goodness for Erin, my assistant, she was right! The tables were full, lush and romantic just as I had hoped. Next time Erin, I think you need to bet me Indian dinner or cocktails. I owe you!!
Special thanks to
Jen Kroll
for allowing us to share these amazing images and for
Jodi of In Any Event
for entrusting us with this very significant wedding.