Roxi and Josh are getting married September 19 at St. Anthony with a reception to follow at the Eberhard Center. Let me just say this right now, personal flowers with peacock feathers... love it, love it, love it! This couple has been a blast to work with and everyone at
Modern Day Floral
is really excited to start designing for this
fantastic
duo.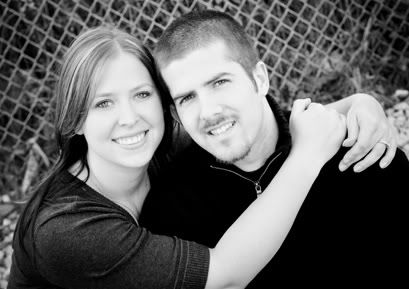 Roxi is a Graphic Designer
Josh is a Controls Engineer
Tell us about the very first time you two met?
"We met in college, he moved into one of my friend's room that was one of his friends. He thought I liked his friend and I thought he like my friend. Later we found out that we were both wrong and liked each other! We've been together since April of 2004."
What is your idea of the perfect date?
"A
surprise
date is always fun, something unexpected. I love when I get home from work and Josh tells me we're going out then takes me to a nice dinner, a movie, or even the beach. "
The one thing about your wedding that you are most excited for?
"I am most excited for my dress and the look on Josh's face when he sees me walking down the aisle. I have lost 45 lbs so it's a really big deal to me."
Your proposal story:
"Josh proposed that day of this college graduation. We had a party at our house in Big Rapids with our families. His Dad gave a heartfelt toast that made me cry and then; right in front of everyone; Josh got down on one knee. That made me cry even more!"
Congratulations Roxi and Josh. We are so excited for your big day and also can't wait for you to walk down the aisle. You rock sister!