Earlier this month, I had the pleasure of meeting with
Le Jardin
! This mother-daughter team from Northern Michigan creates incredible fruit art... now tell me that doesn't make you hungry!!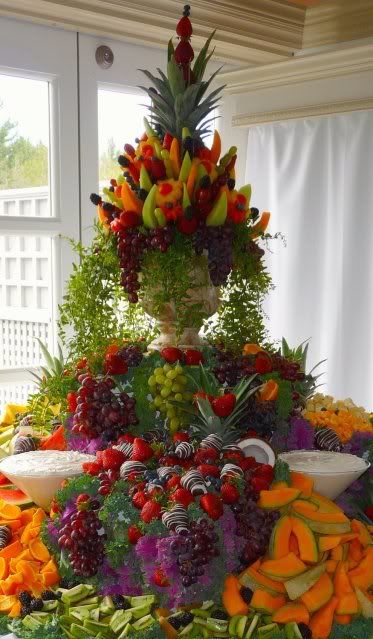 Location: North West Michigan
Number of Years in the Business: Less than One
What first sparked your interest in creating fruit displays?
"We have always had an interest in food, style and fun... our passion for taking food, making it unique and the fun that we have while doing it was the perfect synergy of the things we enjoy... which sparked our interest in this line of work!"
What is your must-have item on the job?
"Besides the necessary items we need to create our arrangements, we need each other! The balance between our personalities and the creativity that is generated from bouncing ideas back and forth makes it a must-have for us to work together while creating these unique arrangements."
Any great business advice you swear by?
"Always listen to the clients wants... always work hard and honestly.. always be open to criticisms and ideas... but at the end of the day, be true to yourself and love what you do!"
What is the most important personal satisfaction you get with your job?
"Please our clients and seeing the reactions of people as they see our work for the first time and knowing that we got to be a part of making someone's special day even more memorable... that is the most rewarding part of doing what we do!"
If you could work with anyone, who would it be?
"As a mother-daughter team... we are each other's first choice! We have worked together from the very beginning doing family dinners, cooking contests and parties of all sorts! Our work ethics are the same and what one of us doesn't think of, the other one does!"
If you could have anyone as your client, who would it be?
"Since we couldn't come up with any one person we would like to work with, we'll say this: our ideal client would be someone who gave us a vision... something unique... where the sky was the limit... and then gave us full creative interpretation to design it!"
What does your normal day consist of?
"Our normal days consists of caring for our families, chores, chatting with each other and brainstorming new ideas for making our business as unique and creative as possible."
Days off and down time are cherished in this industry. How do you spend yours?
"Doing the things we love! We both love spending time with our families, entertaining with our friends, being outside, movie, the Food Network, scrapbooking, knitting, being involved in church activities... basically anything we can do together!"