Last week Thursday we were fortunate to design another amazing event with the talented
Jodi Bos of In Any Event
. The occasion was a high school graduation and 18th birthday celebration.  In typical fashion,
Jod
gave us an unbelievable color palette of raspberry, tangerine and turquoise to work with and total creative freedom...gotta love creative freedom!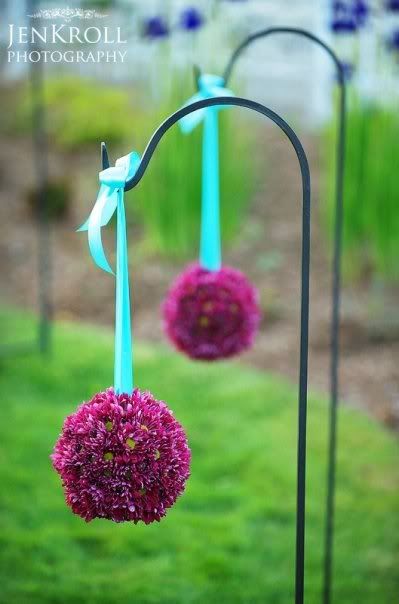 Nothing says, "welcome, we're so glad you're here" then happy little pom balls in a row! Over 100 daisy pomp blooms were used to create these cuties and tiffany blue double swiss satin ribbon added the finishing touch. 
How about that view of the pool?  Yes, it was as gorgeous as it looked in the pictures: 75 degrees, sunny and absolutely perfect!  

Attention to detail and creating the unexpected has definitely become
Jodi's
trademark and this candy bar is living proof.  How much do you love this yummy table and the whimsical cake created by
Sweet Cakes Design
is just the icing on the cake.  Our tiny contribution was the collection of 6x6 cubes containing locally grown wheat grass finished with raspberry double swiss satin ribbon. This display was definitely my favorite detail from this event.  You agree?
Selecting just the right container can make all the difference when creating a centerpiece.  Thanks to
Accent Decor
I was able to find the perfect containers, in the perfect shade at the perfect price-bonus!  
Accent Decor
has come out with a great new line of unique pottery in fabulous colors.  I loved them so much I ordered a case in some of my favorite colors; lemon yellow, rich aburgene and tiffany blue.
Magenta cattleya orchids, pin cushion protea, cherry brandy roses, red ti leaf wraps, craspedia, dancing lily grass and copper wire made this refreshingly fun color palette come to life.  

Special thanks to Jen Kroll for capturing this event so beautifully!  She truly is a master with the camera not to mention a total sweetheart!