My absolutely FAVORITE color is green... to me it signifies life.  The color green in fact means life, growth and renewal which signifies so much right now as we face our daily challenges.  Negativity surrounds us daily in the media so it's refreshing to be surrounded by amazing inspiration through beautiful flowers.
As a designer I find inspiration in not only the flower itself but through their amazing colors. The color palette green offers endless flower and foliage options from orchids to hydrangea and everything in between.  Believe it or not this fresh color is rather diverse coming in several varying shades; yellow green, sage/gray green, true green and even variegated green.  
I absolutely loved this fresh table centerpiece!  Our bride saved old wine and olive oil bottles to be used as unique vessels to hold single stems.  We then  added 4x4 cubes containing locally grown wheat grass which finished this organic centerpiece beautifully.  This arrangement is a perfect example of yellow, variegated and true green.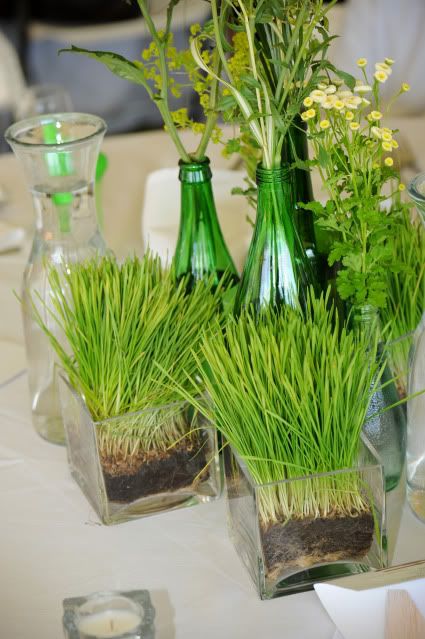 image courtesy of CoastLine-Studios
This sweet cake topper is made from what I call our work horse flower, the Peruvian hydrangea.  Some Hydrangeas can be temperamental when used in foam but not this chartreuse lovely.  Who doesn't love a flower that lasts for weeks and is available year round?
images courtesy of Dusty Brown Photography
I don't know about you but I'm in love with orchids especially Lady Slippers!  They are so incredibly unique and the color is spectacular.  Although this particular orchid variety is rather expensive it adds that perfect punch to what would otherwise be a very simple bouquet.  
image courtesy of Brianna Graham
Have a fantastic Monday everyone and we look forward to sharing more exciting things with you this week.  Make it a great day!!!!