I hope all of you had a fantastic weekend.  Although June 21st marks the first day of summer I can't help but celebrate when it finally arrives.  June means wedding season is in full swing, days get longer and nothing tastes better than steak on the grill! 
This month we celebrate all you fabulous June babies and your hopelessly romantic flower...the rose.  Roses come in many different varieities from garden to spray, sweetheart to standard with endless colors available. I don't know about you but I love reading about the different
rose color meanings!
Eufloria Flowers
is by far my favorite rose grower.  They have the most amazing color selection and the quality is unparalleled.  In November they introduced a stunning new novelty rose called Hypnose.  It is a petite, copper brown and green rose which works beautifully in 
vintage weddings
...finally a rose with a chocolate undertone!   
This sweet bouquet was designed using sophie, a soft pink standard rose and cream spray roses.  The pink rose means grace and elegance which beautifully describes this bouquet.
This classic bouquet is a combination of black magic roses and stephanotis.  Red is the traditional symbolism for love and romance.
Sweet little cake topper using open burgundy spray roses, touches of Italian Ruskus with a tiny kiss of bling!   
I don't know about you but I'm hopelessly in love with pomander balls especially ones made o lush open roses.  Here we created the design using 75 Anuschka roses.
This last little beauty is by far my favorite, the cherry brandy rose!  It's a scrumptious rose with a yummy sherbert orange color and hot pink ruffled petals...can you say LOVE!  :)  This rose is playful and a perfect compliment to almost any color palette.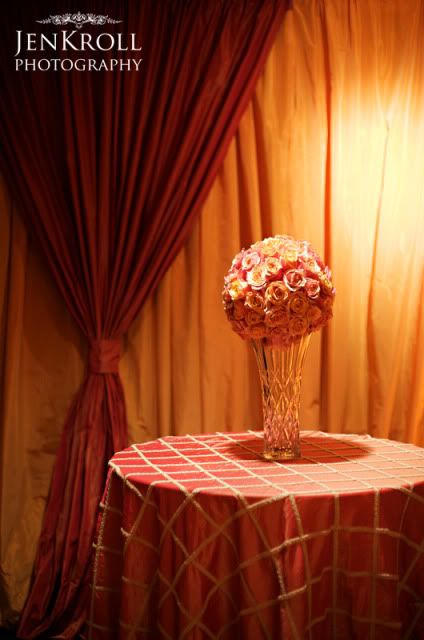 So for all you June babies (and hopeless romantics), enjoy the flower of the month and Happy Summer - just a little bit early!