Hey y'all! Happy Wednesday. Hope this finds all of you lovely readers of Jens blog doing wonderfully. Over my past two posts I have received a couple of questions that I wanted to address before delving too much further into team Alishan. It's a seriously extensive list and I'd hate for these ladies to have to wait.
First from Erin: What was the best part of my engagement process?
Erin, that's a fantastic question as I have never really thought about it before. I would probably have to say the growth Mike and I experienced in our relationship as well as the relationships that were created with some of our vendors. It was also great to plan with my mom. She's a serious rock star and the planning process brought us even closer.
Planning a wedding is a once in a lifetime experience and I wouldn't change a single thing about mine. I was able to secure the vendors I wanted early on then sit back and relax for the better part of a year until the smaller details needed to be finalized. I was able to go to Miami for my bachelorette party with incredible friends. We made several trips up to Grand Rapids that were (for the most part) stress free and more about celebrating our love for one another and this joyous time instead of freaking out and running around trying to get things done. We could incorporate a lot of personal details because we had the time. It's not for everyone, and at times it was frustrating because I just wanted to be married already, but again, I wouldn't trade it for the world. 
Next from Cairn: Any tips on getting married in the Cathedral? Suggestions or ideas to make it our own? It's so beautiful I don't want to do much to it, but some personalization would be nice.
Cairn, also a great question. I first attended St. Andrews Cathedral when I moved to Michigan in 6th grade. It always stuck in my mind as gorgeous, but when we moved to Forest Hills, my family started attending St. Roberts. When time came to pick a church, I decided that I didn't want to get married at St. Roberts for aesthetic purposes, but instead wanted to use St. Andrews. As you know it is beautiful beyond words. Every time I have been inside of the Cathedral, my breath was taken away. My mom and I didn't think much decoration was needed at all and pretty much left it in the hands of our AMAZING florist Jenn. She and my mom met at the Cathedral when I was in Atlanta and they decided all the church really needed was something for the unity candle, an arrangement when you first walk in and an arrangement by the altar. It was important for us that whatever we added didn't take away from the original beauty of the Cathedral and I feel we accomplished that. My advice would be to keep it simple and elegant. Those are two words you can never go wrong with!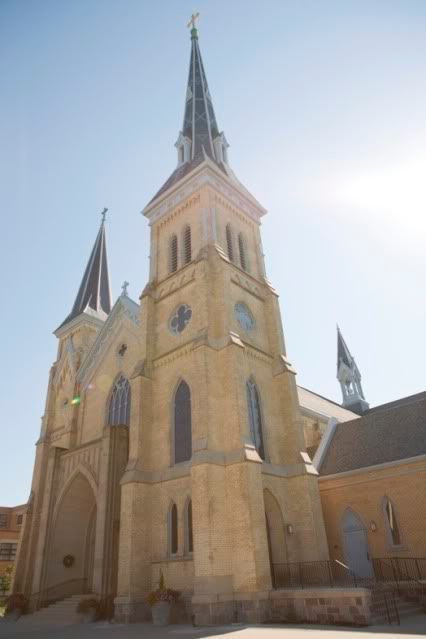 These were great questions and hopefully helped others out there. Whether deciding on having a long engagement or how in the world you are going to plan from across the country, I am here to help. J
I've got to scoot as my one year anniversary is this weekend and I've got all sorts of surprises up my sleeve to work on. Have a great week ladies (and gents) and next week we'll get back to Team Alishan. Before I finish all of that gang I am going to touch on the ups and downs of planning a long distance wedding as well as some of my favorite wedding trends I did and did not use.
Ciao- 
Alishan