Hey there!

One of my dear friends is getting married next summer and while talking about her upcoming nuptials I thought of something that should be shared with you all. Jill touched on it briefly in her blog about her (and my) favorite flower the Peony, but I wanted to delve a bit deeper here.
It is absolutely imperative to the wedding planning process that you research everything you're not sure of. When Mike proposed, I dove into wedding planning without really any idea what I was doing. I initially wanted to get married in June so I looked at the calendar and picked June 7
th
. Simple enough. Until I realized a) that was festival weekend in Grand Rapids and it has rained the past 14 or so years and b) It was 6/7/08 and would be a wildly popular wedding weekend.
We quickly changed to June 14, 2008 and things worked out perfectly.
My own love of peonies was also a huge factor in my wedding planning. When my mom asked me to list the most important things to me for my wedding, in that list was incredible flowers. After our first meeting with Jenn, I discovered that peonies have a very short window and that June 14th would be pushing it. I basically told her to get me that flower by any means necessary. If I hadn't been set on mid June and peonies, I probably could have saved money but because it was important to me, I was willing to pay.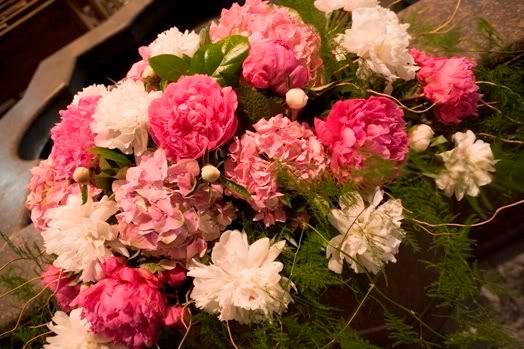 image courtesy of Ben Harrison Photography
Also, since we had a long engagement, I was able to research our vendors (have I mentioned that they were awesome) and not have to settle for just anyone. I read reviews from other brides on theknot.com, I asked for references, I even asked really obnoxious questions to make sure they were up for the challenge that would come with working with Team Alishan.
My next blog post is going to cover what I would keep the same and what I would change if I could do it over again. My failure to research is probably the only excuse I have for the things I would change and I don't want you to have the same minor regrets.
Bottom Line: Research everything at least once. Whether it's just double checking the schedules of those important guests or hopping on a wedding website to get vendor reviews, you will benefit in the end!
Until next time,
Alishan