They say a picture says a thousand words and in this case I think it says everything!  So often as designers, we don't get the opportunity to see the faces of the ones we touch.  When
Karen
finished this bouquet, I knew it was only fitting that she be the one to present this unbelievable beauty to our bride Nina.  Of course,
Erin
, my assistant, and I were there to capture the moment..are you kidding me we wouldn't have missed it!!!!!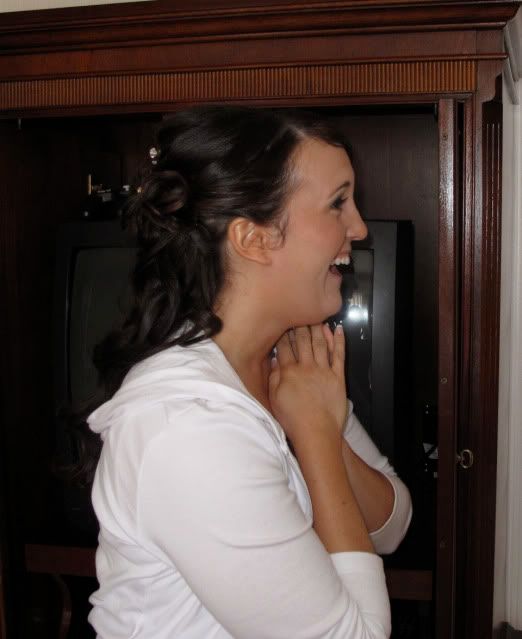 Nina stared at the bouquet for a good minute before asking if
Karen
would help her with holding the bouquet - which was too cute!
After our initial consultation and seeing pictures of Nina's dress it was obvious that no standard bouquet would do!  The waterfall bouquet was designed to work perfectly with the ornate details of her dress.  It is very important when selecting a bridal bouquet that it compliments the prettiest part of the dress.  Also adding embellishments like pearls, crystals and other non-floral elements can really accentuate the dress bringing the entire look together.   

This dramatic bouquet was a combination of Black Magic and Charlotte roses along with James Story orchids, red hanging Amaranthus,  Italian Ruskus and finished with stunning crystals and an amazing brooch.  The bouquet was designed in large bouquet holder.   The unused cut rose stems were used to wrap around the plastic handle giving the bouquet that European Hand-tied look.  This technique also makes the bouquet easier to carry because lord knows this beauty weighed a cool ton!  :)  I'm sure the maid of honor is still cursing us!