If you have chosen the lush, sassy color purple for your wedding palette get ready to have some serious fun! This fabulous hue is especially great when you choose to use it in your floral elements. No matter what style wedding you choose to portray your special day, purple can take it to the next level.  
This hand-tied design takes on the classic garden style. By using rich purple drum stick allium, pale coolwater roses and delicate lisianthus, this romantic design took on a edgy and sophisticated look.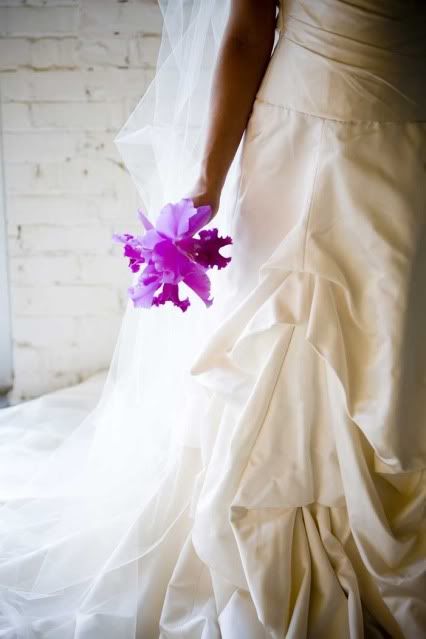 The saying "less is more" goes perfectly describes this simple bouquet of fluttering cattleya orchids. The curves on this beauty make this flower one of our favorites here at Modern Day Floral. By choosing light purple, just enough color is added to make the bouquet pop against your beautiful wedding dress!

Finally, what would we do without the clean lined, tropically lush phaelonopsis orchid submerged in water?! Complimenting purples with a metallic wire is one of the hottest trends right now in modern style weddings. You truly can't go wrong with this sassy little number!